Kilim rugs are flat tapestries that were used both for prayer and decoration. The term 'kilim' originates from the Persian gelim where it means "to spread roughly." This weaving technique was so wide-spread that forms of the word are used in many other languages: Turkish, Greek, Croatian, Bosnian and Serbian, Albanian, Polish, Bulgarian, Ukrainian, and Lithuanian. Kurdish has its own name: berr.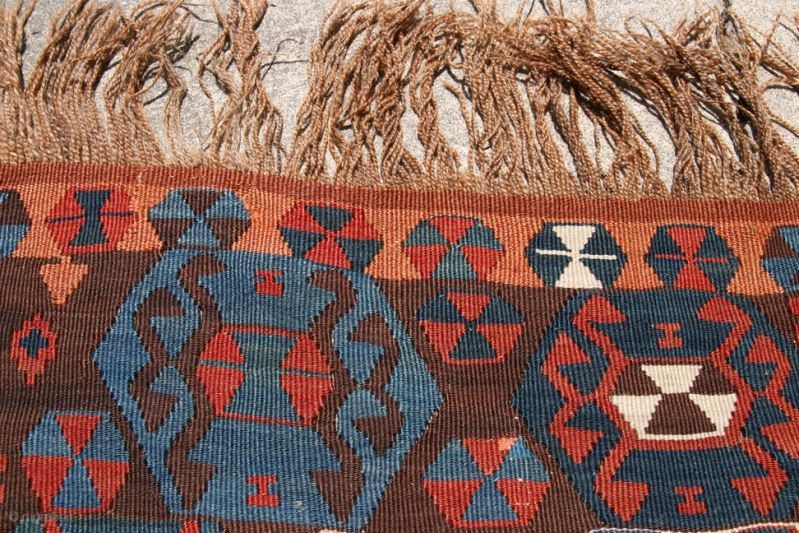 These rugs are produced by tightly interweaving the warp and weft strands of the weave to produce a flat surface with no pile. Because of the technique, they are often geometric in style. The boundaries of colors are wound back creating slits between colors, and giving this type of weaving the nickname "slit woven." Therefore edges are straight lines, and geometry a disctincitve element of the Kilim technique. Common layouts are medallions, connected diamond-shaped medallions, and all-over octagonal shapes.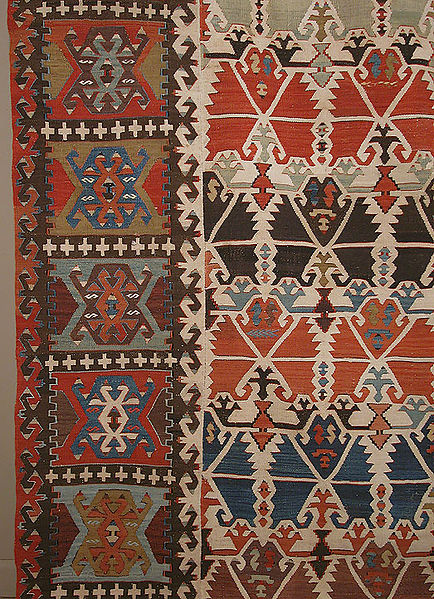 Hotamis Kilim (detail), central Anatolia, early 19th century. Photo courtesy Marla Mallett.
One of the most recognized designs is called Mahi (Herati). "Mahi" or"Herati" (has its origin in Herat, ca. 16th century. "Mahi" is short for "Mahi to Hos" meaning "fish in the pond." A rosette is surrounded by a rhombus which is again surrounded by four bent leaves. The name "Mahi" meaning "fish" was given to this design because the leaves resemble swimming fish, picutred below.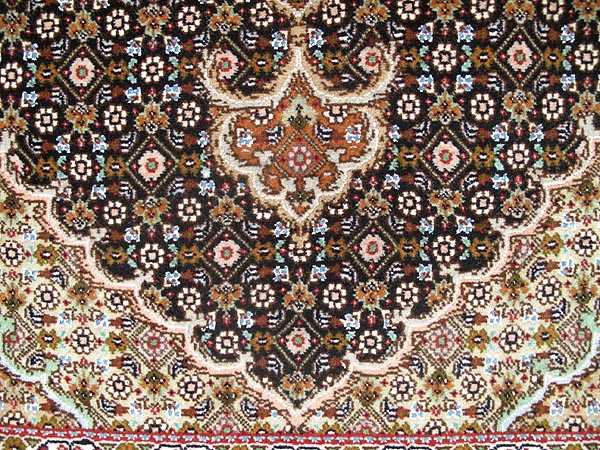 There are many motifs used in kilim weavings such as stylized female figures (fertility), wolf mouths or feet (protecting family flocks), scorpion (for safety of its sting), an evil eye (protection), etc. Below is a detail of a Turkish kilim, illustrating usage of several kilim motifs including the scorpion in the center.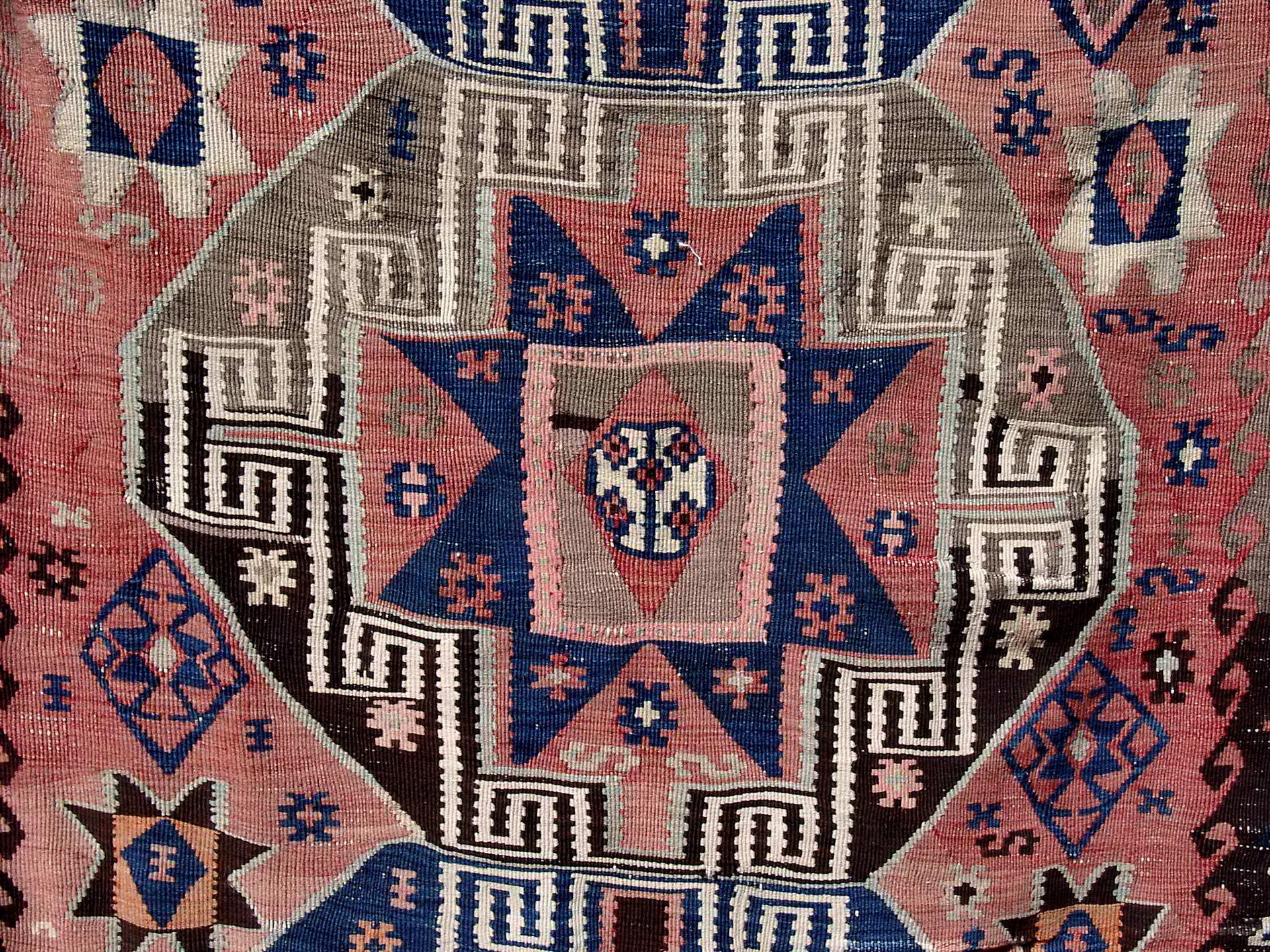 "As kilims are much less durable than rugs that have a pile to protect the warp and weft, it is not surprising that few of great age remain...The weave is almost identical with that of modern kilims, and has about fourteen threads of warp and sixteen threads of weft to the inch. The pattern consists of narrow stripes of blue, green, brownish yellow, and red, containing very small geometric designs. With this one exception, so peculiarly preserved, there are probably very few over a century old."
-Hawley, Walter A.Oriental Rugs Antique & Modern. (1913). Reprint (1970): Dover Publications, New York, N.Y., p. 278.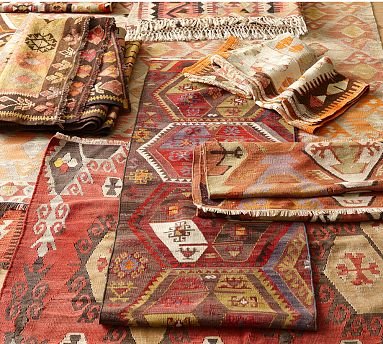 I had the pleasure of seeing the The Art of the Anatolian Kilim: Highlights from the McCoy Jones Collection show at the de Young Museum in San Francisco. The show focused on the Turkish Anatolia weavings, pictured below.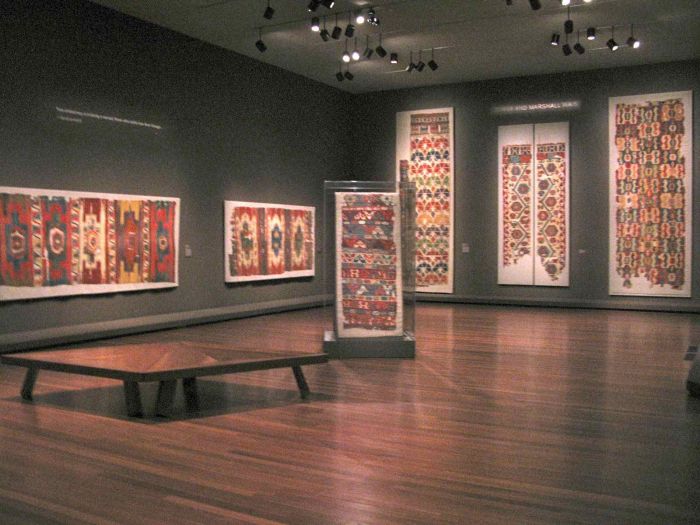 The show focused on Turkish rugs "dating from the 15th to the 19th century, include a variety of design types and regional styles, as well as superb examples of artistic and visual prowess." (de Young Museum site).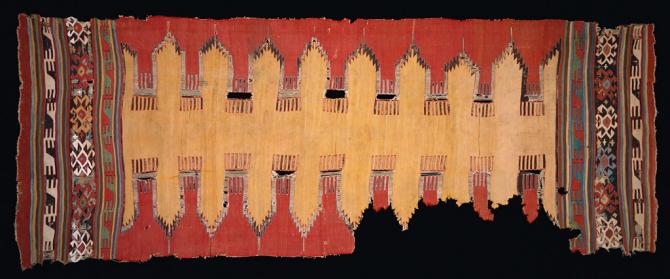 Kilim, 18th century, Turkey, Anatolia. Wool, cotton; slit tapestry weave. 56 x 138 inches. The Caroline and H. McCoy Jones Collection. Gift of Caroline McCoy-Jones.
Kilim rugs are extremely popular today. One can find this weaving style used for pillows found everywhere, including Etsy (below). The contemporary weavers favor bold geometric patterns over traditional designs, and include more colors like turquoise and purple to the traditional red, pink, ivory, green, and blue.