Yayoi Kusama is a Japanese artist whose work spans writing, film, fashion, performance, installation, design, collage, and painting. In Japan during the 1950s she numerous solo exhibits for her paintings. From 1957-72 she lived in New York. During that time and throughout her 60+ year career she has shown her work alongside Andy Warhol, Claes Oldenburg and George Segal.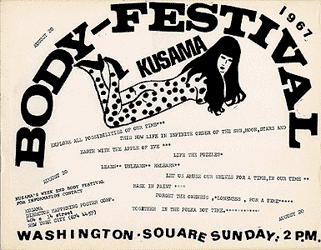 In the late 60s, she created Body Festivals in which naked participants were painted with brightly colored polka dots, advertisement shown above.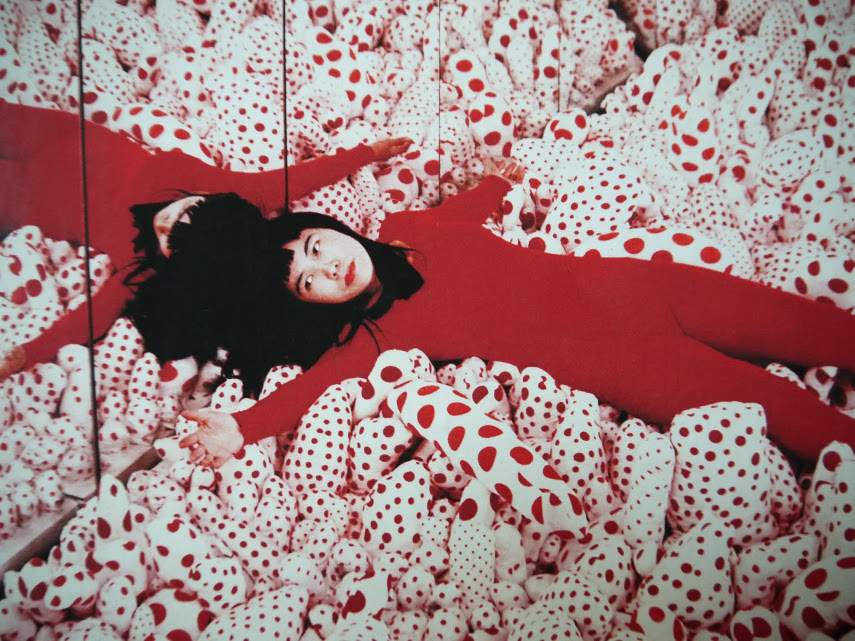 In 1961 she moved her studio into the same building as sculptors Donald Judd and Eva Hesse. It is not suprising looking at Kusama's work that she and Hesse became close friends. Above is from the installation Infinity Mirror Room — Phalli's Field (1965) in New York. The room was lined with mirrors and layered with hundreds of polka-dotted fabric protrusions that Kusama called "a sublime, miraculous field of phalluses." She plays with not only pattern, especially psychadelic in nature, while discussing eroticism, voyerism, and sensuality.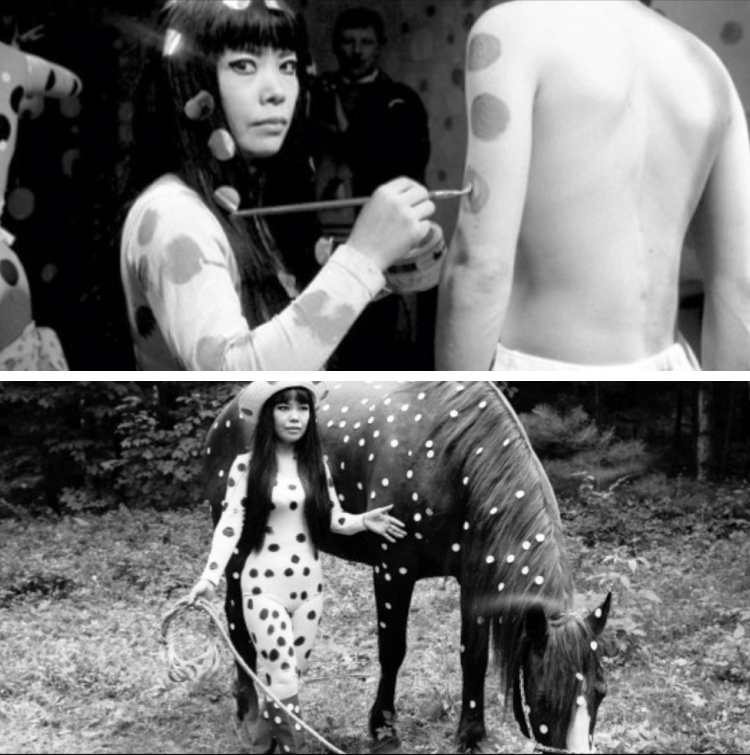 In 1977 she voluntarily admitted herself to a hospital in Shinjuku, Tokyo, where she has spent the rest of her life. Her studio, where she has worked since the mid-70s, is a short distance from the hospital. Kusama is often quoted as saying: "If it were not for art, I would have killed myself a long time ago."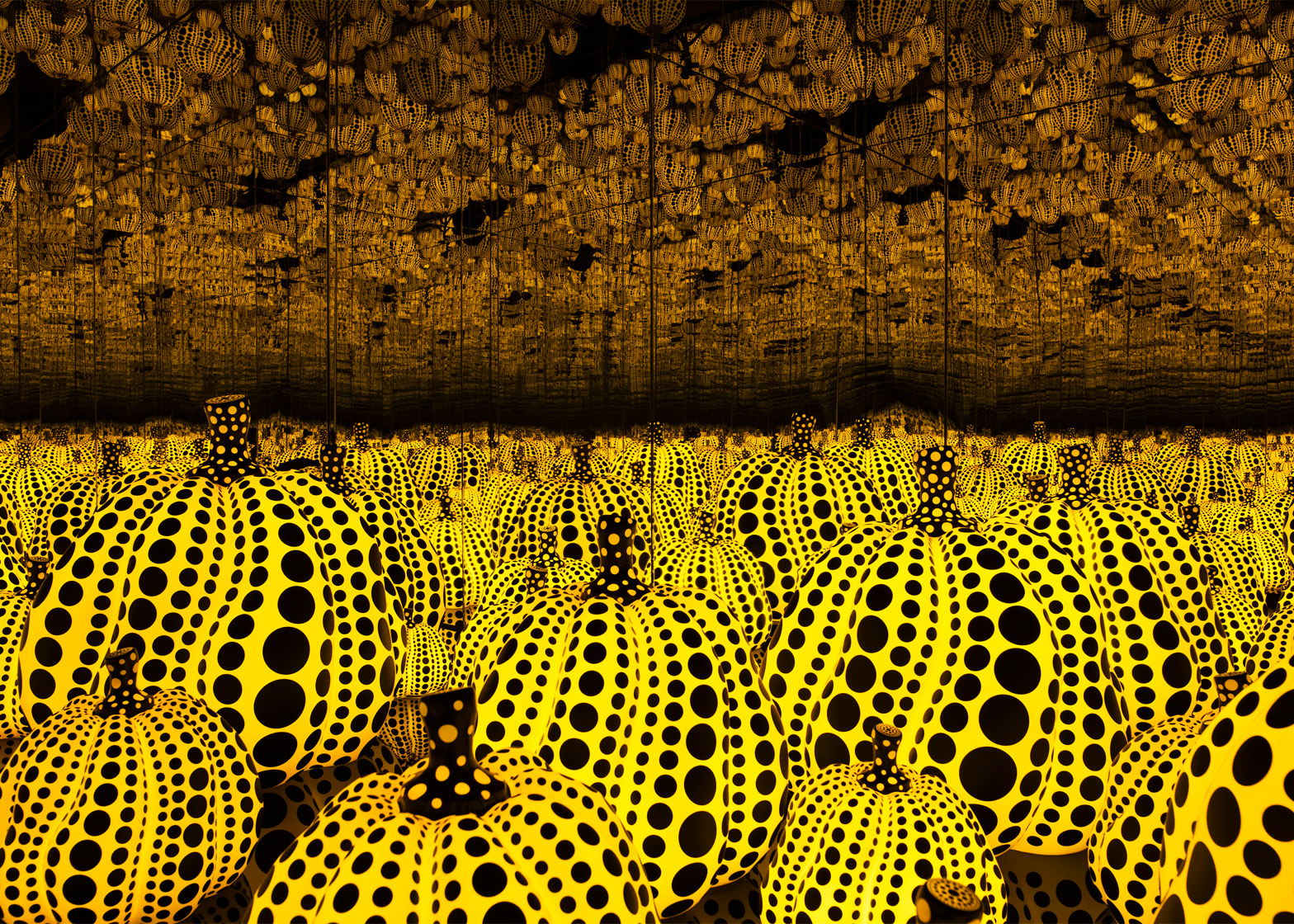 In the 1980s and 90s she regained visibility in the art world, especially after numerous retrospectives and particurlarly after the Venice Biennale in 1993. The pumpkin (above) came to represent for her a kind of alter-ego or self-portrait.
Kusama has exhibited and performed since the 1960s in spaces such as MOMA and more recently a retrospective at the Tate Modern (below).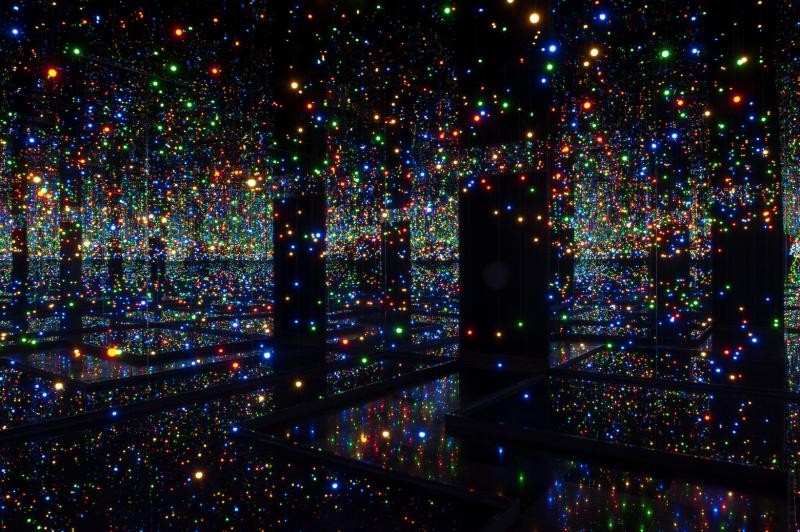 Kusama has also been known to create commercial designs, in particular in the fashion world. In 1968, Kusama established Kusama Fashion Company Ltd., and began selling avantgarde fashion in the "Kusama Corner" at Bloomingdales. In 2011, Kusama created artwork for six limited-edition lipglosses from Lancôme. That same year, she worked with Marc Jacobs (who visited her studio in Japan in 2006) on a line of Louis Vuitton products, including leather goods, ready-to-wear, accessories, shoes, watches, and jewelry (below).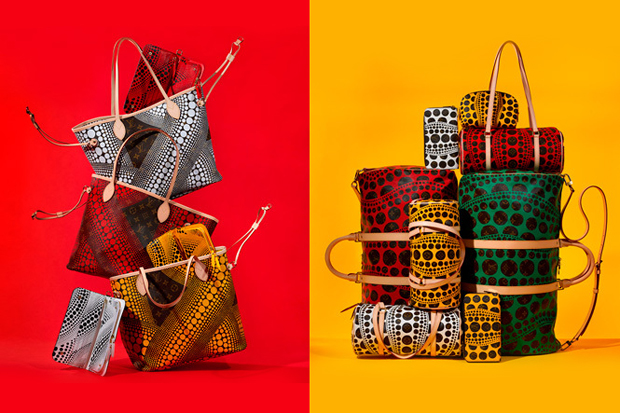 Since then she designed the Louis Vuitton store in New York (below). It is phenomenal!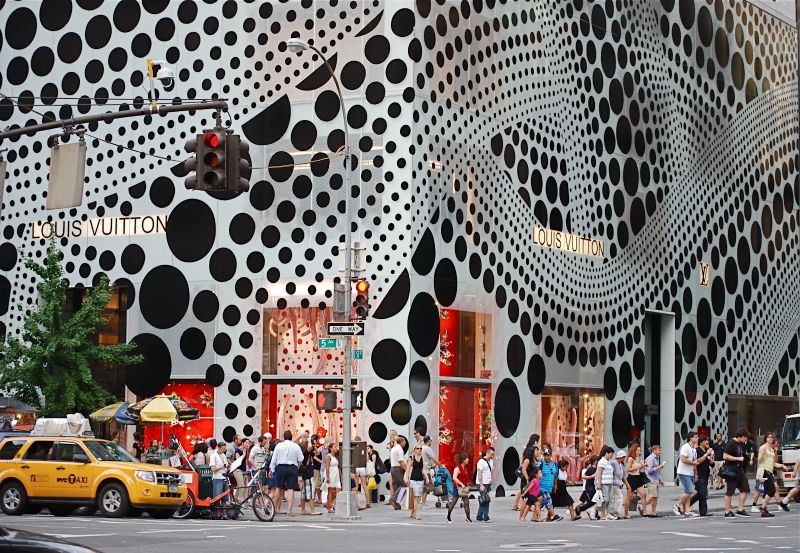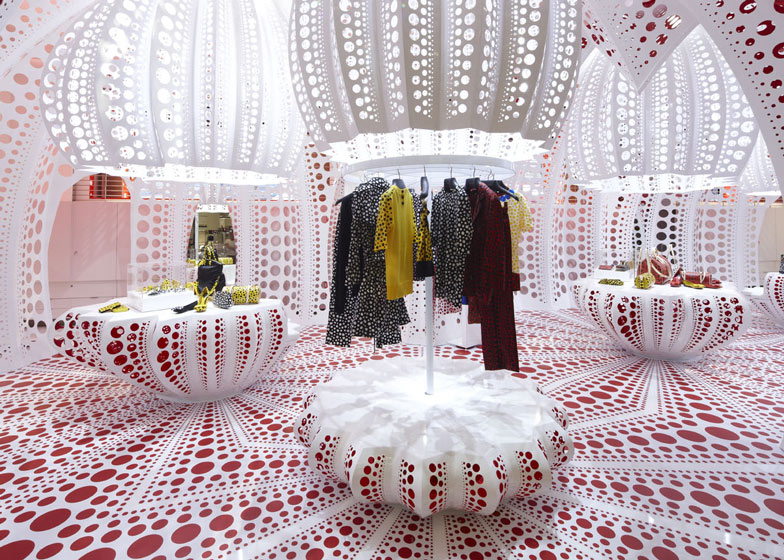 The store is an incredible surreal space with a mix of materials, all of which utlize the famous polka-dot pattern.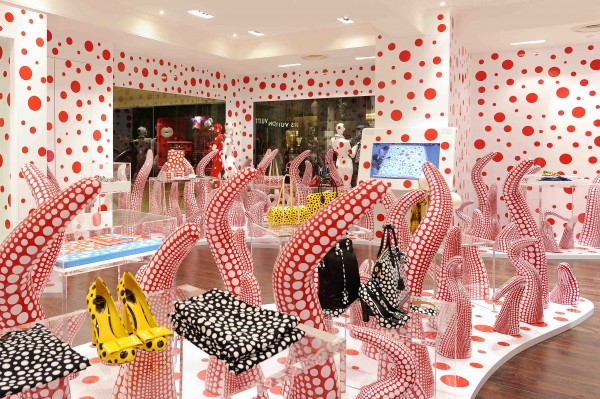 Throughout Kusama's art career she created work that plays with boundaries, some of my favorite being her installation including public, private, and commercial. I am showing a variety below.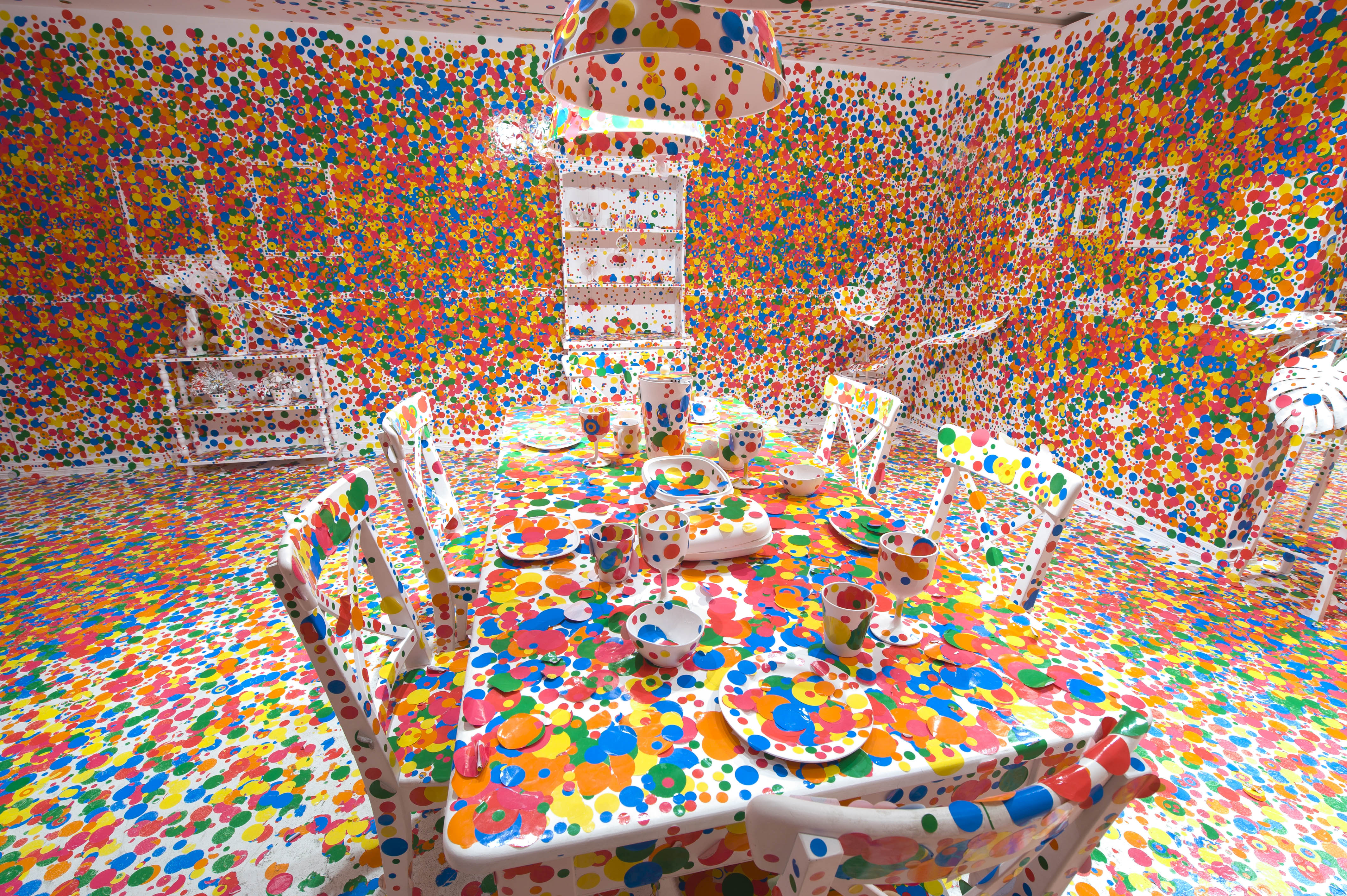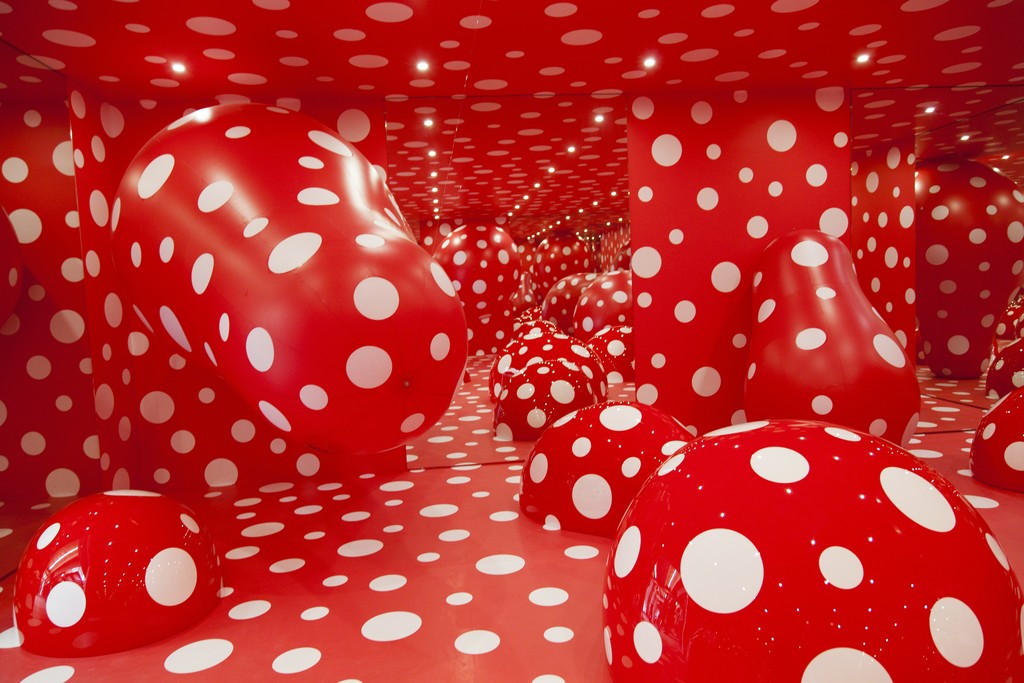 Portraits of Yoyoi Kusama in front of her patterns or in her installation spaces are simply striking.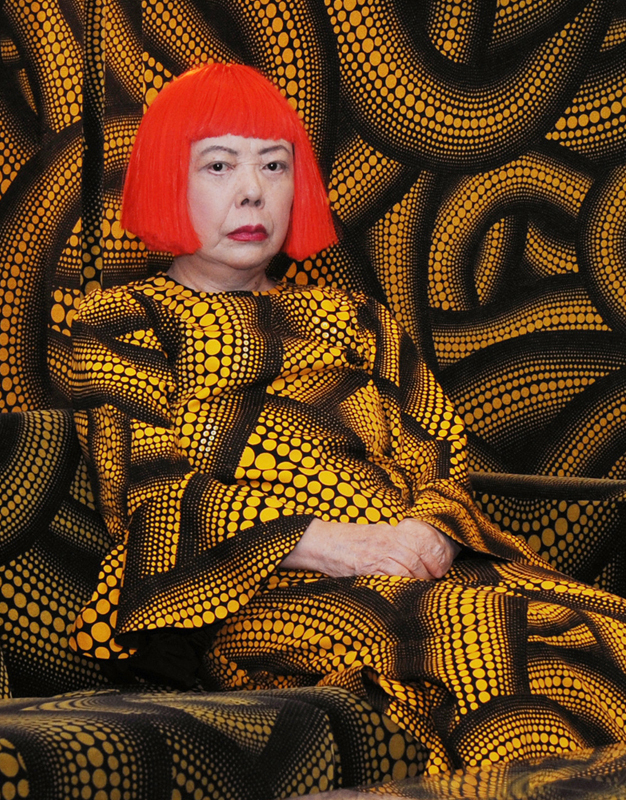 "...a polka-dot has the form of the sun, which is a symbol of the energy of the whole world and our living life, and also the form of the moon, which is calm. Round, soft, colorful, senseless and unknowing. Polka-dots become movement... Polka dots are a way to infinity."
—Yayoi Kusama