Pattern and Decoration was an art movement in the mid-1970s to the early 1980s. The movement has sometimes been referred to as "P&D" or as The New Decorativeness and is "seen as a rebellion against the austere rigors of late modernism." (New York Times link HERE)
The movement was championed by Holly Solomon who was especially known for nurturing Pattern and Decoration, a reaction to the austerities of Minimalism in the 1970s. Image above, detail from Valerie Jaudon.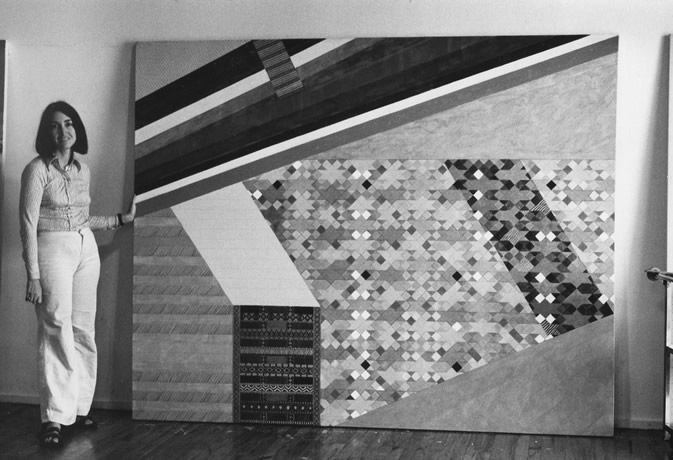 Joyce Kozloff
"P & D" artists -- among them Cynthia Carlson, Brad Davis, Mary Grigoriadis, Valerie Jaudon, Jane Kaufman, Joyce Kozloff, Robert Kushner, Thomas Lanigan-Schmidt, Kim MacConnel, Sonya Rapoport, Tony Robbin, Miriam Schapiro, Ned Smyth, Betty Woodman, George Woodman, Robert Zakanitch, and Kendall Shaw -- were known for their interest in pattern. They sometimes were traditional painters, and but sometimes used materials like fabric and collage to create their work. The artists used pattern as conceptual, decorative, and historically referential. Often categorized as a feminist art movement, the group included a combination of men and women, and connects to much more than the "feminine" traditions.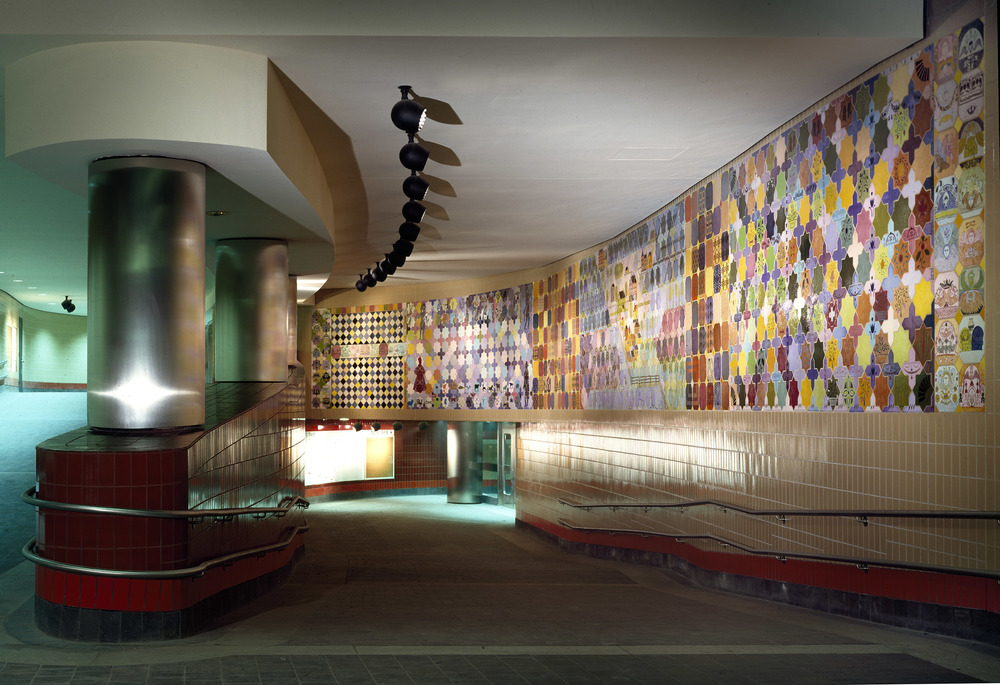 Joyce Kozloff, TileMural for Harvard Square Subway, 1985-6.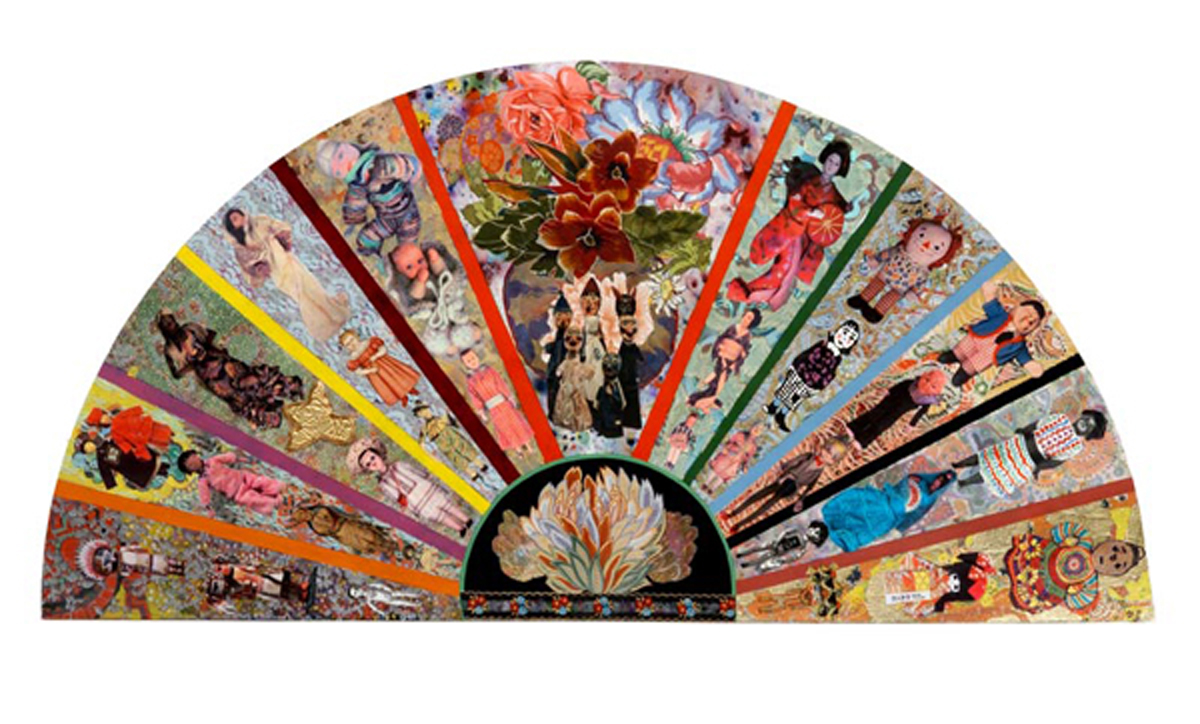 Fan by Miriam Schapiro, 1975
"Thanks to multiculturalism and identity politics, we know better what to make of the artists' themes now; the art world's horizons are immeasurably wider than they were two decades ago (without being all that wide)," Holland Cotter continues. "Besides, to my eye, most P&D art isn't beautiful and never was, not in any classical way. It's funky, funny, fussy, perverse, obsessive, riotous, accumulative, awkward, hypnotic, all evident even in the fairly tame selections by Anne Swartz, the curator for this show. And not-quite-beauty is exactly what saved it, what gave it weight, weight enough to bring down the great Western Minimalist wall for a while and bring the rest of the world in. Let the art historical record show, in the postmovement future, the continuing debt we owe it for that."

"Untitled," by Tony Robbin, 1976
"They looked at Roman and Byzantine mosaics in Italy, Islamic tiles in Spain and North Africa. They went to Turkey for flower-covered embroideries, to Iran and India for carpets and miniatures, and to Manhattan's Lower East Side for knockoffs of these. Then they took everything back to their studios and made a new art from it."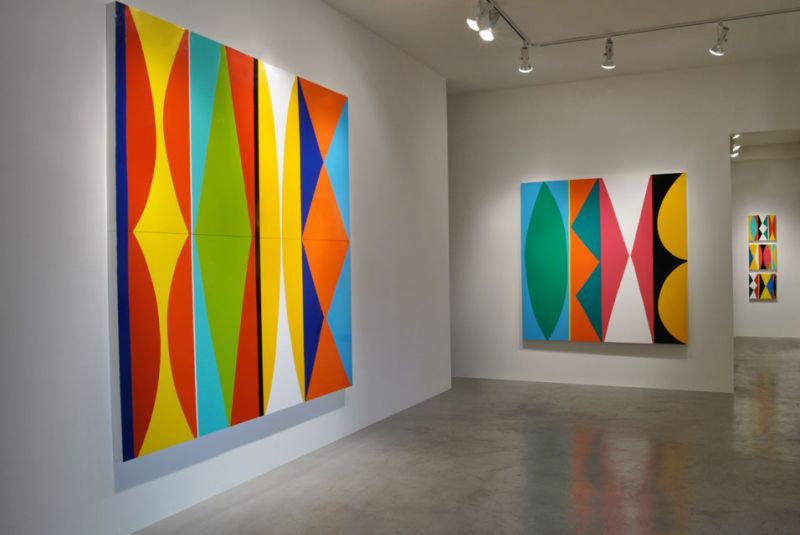 Some newer work from Kim MacConnel, Abracadabra, 2012.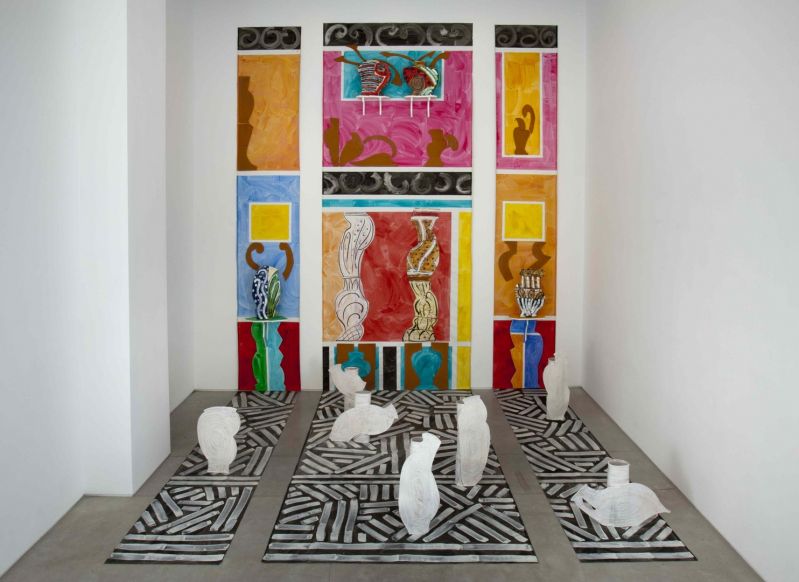 Betty Woodman, Roman Fresco/Pleasures and Places, 2010.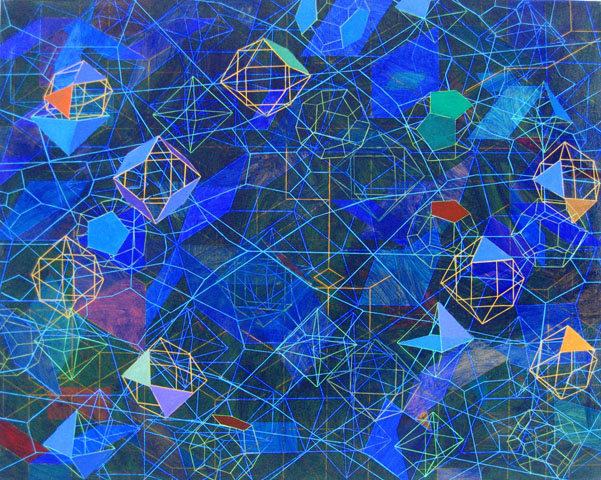 Some newer work from Tony Robbin, 2007-8.